URBAN TRANSITIONS ALLIANCE
KICK-OFF
TWINS CONFERENCE RUHR: CITIES IN CLIMATE CHANGE
The Urban Transitions Alliance's launch and will kick off on 6 November: Alliance city representatives will travel from China and the US to meet their German peers at the TWINS Conference Ruhr in Essen, Germany.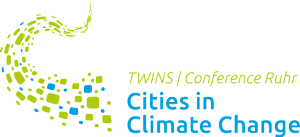 The conference brings together Ruhr cities together with their international twin partner cities to foster knowledge exchange among local and regional governments and climate experts on the topic of cities in climate change at the Zollverien UNESCO World Heritage site.
Download the program >
Interactive workshops and site visits to climate projects across the Ruhr Area will set-off thematic discussions. The cities' joint messages from November 7 will be handed over to UNFCCC representative Dhirendra Kumar, taking the TWINS outcome from Essen to UN Climate Change Conference COP23.
URBAN TRANSITIONS EVENTS AT COP23

On 9 November, the Urban Transitions Alliance will be showcased at two events at COP23.
UNFCCC OFFICIAL SIDE EVENT: CITIES IN TRANSITION: INDUSTRIAL LEGACY FOR A LOW-CARBON FUTURE.
Representing the newly created Urban Transitions Alliance of industrial legacy cities, the European Green Capital 2017 and former coal mining city of Essen, the iconic "Steel City" of Pittsburgh will discuss with Huadu District of Guangzhou, the Ruhr Region as metropolitan area with a strong industrial legacy and with international organizations what challenges industrial legacy cities face and how their transition to sustainability can make them global leaders in low carbon development. More details >
TRANSITION STORIES: INDUSTRIAL LEGACY, SUSTAINABLE FUTURE.
The Urban Transitions Alliance cities will share their transition stories, pressing challenges and their visions for a sustainable future. Together, their examples will pain a picture of a global transition process. More details >
On 10 November, the Alliance cities and partners will create synergies as they engage in workshops that will initiate the Alliance working process. Together, they will set the agenda for the initiative and shape the Urban Transitions Alliance focus topics to provide a wealth of ideas and knowledge according to each cities' needs.