URBAN TRANSITIONS ALLIANCE ROADMAPS RELEASE

Eleven cities worldwide show what a future after industry can look like in a new report released on Earth Day 2019
Bonn, Germany (22 April 2019) – In celebration of Earth Day 2019, the cities of the Urban Transitions Alliance are releasing the report "Urban Transitions Alliance Roadmaps: Sustainability Transition Pathways from Industrial Legacy Cities", which details innovative and tested solutions for cities transitioning away from an industrial past.
The eleven industrial legacy cities of the Urban Transitions Alliance have committed to policy and infrastructure changes in the areas of infrastructure reuse, energy, mobility and social inclusion. The cities have spent the last two years identifying areas of focus to ease their transition and exchanging implementation lessons.
For example, in Huairou District, in the City of Beijing, former factory buildings and idle land have been transformed into a film and soundstage hub. In Katowice, Poland, an energy education center was opened to educate residents on efficiency and renewables options within the city. Buffalo, New York, has created transportation transition programs, for example, where residents get access to bicycles from an early age. Baltimore, Maryland has created new job opportunities using high-value resources diverted from the waste stream.
"Cincinnati is working become a national leader in sustainability efforts and a more equitable, resilient city," said Mayor of Cincinnati, John Cranley. "We are excited to learn from and share ideas with other industrial-legacy cities around the world as we work collectively to embrace our past as we envision our future. The partnerships and lessons learned from Urban Transition Alliance continue to inspire Cincinnati's sustainability planning."
"I am proud of the City of Buffalo's involvement with the Urban Transitions Alliance and ICLEI – Local Governments for Sustainability," said Mayor of the City of Buffalo, Byron W. Brown. "Buffalo is leading the way for many industrial legacy cities when it comes to the three key areas of Energy, Mobility, and Social Transitions. Specifically, the roadmap highlights Buffalo's focus to reduce municipal energy consumption, support sustainable and active lifestyles from an early age in partnership with GoBike Buffalo, and demonstrate what it means to be the City of Good Neighbors with The University Heights Tool Library. The Alliance Roadmap is filled with best practices that can help any city looking to create systemic change for urban stability."
"Many European cities have gone through industrialization a long time ago, and have entered the stage of transition toward a sustainable future. Chinese cities, on the other hand, started  industrialization process several decades ago, and the process is still on-going in many places," said Dengli Ming, Chief of the Science, Technology and International Cooperation Division, Beijing Municipal Ecological Environment Bureau. "Through participating in networks like ICLEI and exchange programs like the Alliance, Chinese local agencies are provided with opportunities to learn from experiences of cities in Germany and many other countries in the world."
"The Alliance serves as a hub for ideas exchange among cities working towards a sustainable and low emission future," said Michael Leischner, Department Head of Climate, Air and Noise in the City of Dortmund. "For example, Pittsburgh, Cincinnati and Dortmund are focusing on boosting energy efficiency in commercial districts but Dortmund takes a consulting approach, working with businesses to optimize energy efficiency in production cycles, while the north American cities tend to use tax incentives. By learning from one another, Alliance cities can diversify their approaches to maximize impact."
The network is critically important for industrial cities transitioning into a new, cleaner future," said Grant Ervin, Chief Resilience Officer for the City of Pittsburgh. "City-to-city networks like the Alliance are great to foster international collaboration and accelerate the implementation of sustainability and resilience at the local level. We've learned a lot from our Alliance colleagues and look forward to future exchanges to deepen our learning and share the work we are doing in Pittsburgh."
The eleven cities participating in the Alliance are Baltimore, Buffalo, Cincinnati and Pittsburgh, in the US; Dortmund, Essen and Gelsenkirchen, in Germany; Katowice, Poland; the Districts of E-Town and Huairou, in the City of Beijing, China; and Yuhua District, City of Shijiazhuang, China."
Urban Transitions Alliance cities are re-inventing themselves as sustainable, vibrant and inclusive places that are great to live in, building a new identity on the foundation of their industrial legacy," said Roman Mendle, Manager, Circular Development, at ICLEI – Local Governments for Sustainability, which coordinates the Alliance. "On Earth Day 2019, we celebrate the inspiring success stories of these industrial legacy cities, which show how much impact they can have by relying on great ideas, making the most out of their legacy infrastructure and working closely with their citizens to make change happen."
The Alliance, funded by the Stiftung Mercator, was built on the premise that by connecting industrial legacy cities from the US, Europe and China through their transition stories and visions of sustainable urban development, common challenges and transition pathways would emerge. Over the past two years, the Urban Transitions Alliance has grown into a strong network of city practitioners. The Alliance was designed to provide the infrastructure and support to advance collaboration between the cities.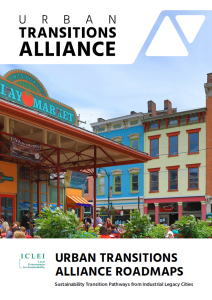 Urban Transitions Alliance Roadmaps
Sustainability Transition Pathways from Industrial Legacy Cities